Seeking Jesus Vol. 2
MEDIA > Seeking Jesus 2020
SEEKING JESUS
Volume 2
Study Series and Daily Personal Journal
2020 Seeking Jesus is a personal study series which covers the life and teachings of Jesus. Covering all the events and teaching surrounding Jesus in chronological order. Using SNAPshot journals everyone is encouraged to read, study and personalize the scripture reading for that day. The final goal is personal spiritual growth and a better understanding and relationship with Jesus the son of god.
April - June 2020
Messages and additional Notes for the
SEEKING JESUS
series available by
CLICKING HERE
You can order your copy of
Copies ordered may require special mailing instructions
during this current COVID-19 lockdown.
Copies are currently only available through Amazon.com
Start Date

Week #

Scripture ONLINE

Memory Verse

Palm Sunday

Jesus Changes Everything




"Daughter," he said to her,
"your faith has made you well. Go in peace."

Easter Sunday

Choosing Sides




Matthew 10.16




Look, I am sending you out as sheep among wolves. So be as shrewd as snakes and harmless as doves.




But Jesus spoke to them at once. "Don't be afraid," he said. "Take courage. I am here!

Spiritual Food Last Longer

For it is my Father's will that all who see his Son and believe in him should have eternal life. I will raise them up at the last day.

People see what they want to see

Only an evil, adulterous generation would demand a miraculous sign, but the only sign I will give them is the sign of the prophet Jonah." Then Jesus left them and went away.

Mother's Day

Seeing things Clearly

Then, calling the crowd to join his disciples, he said, "If any of you wants to be my follower, you must turn from your selfish ways, take up your cross, and follow me.

Battle Lines

He sat down, called the twelve disciples over to him, and said, "Whoever wants to be first must take last place and be the servant of everyone else.

Confusion at the Festival

Jesus spoke to the people once more and said, "I am the light of the world. If you follow me, you won't have to walk in darkness, because you will have the light that leads to life."

Pentecost Sunday

Spiritual Priorities

Jesus said to the people who believed in him, "You are truly my disciples if you remain faithful to my teachings. And you will know the truth, and the truth will set you free."

People in Trouble

Wherever your treasure is, there the desires of your heart will also be.

The Great Divide

Do you think I have come to bring peace to the earth? No, I have come to divide people against each other!

Father's Day

Getting into Heaven

My sheep listen to my voice; I know them, and they follow me.

The Servant's Heart

If you are faithful in little things, you will be faithful in large ones. But if you are dishonest in little things, you won't be honest with greater responsibilities.
Unless otherwise indicated, all Scripture quotations on this page are taken from the Holy Bible,
New Living Translation, copyright © 1996, 2004, 2007. Used by permission of Tyndale House
Publishers, Inc., Carol Stream, Illinois 60188. All rights reserved.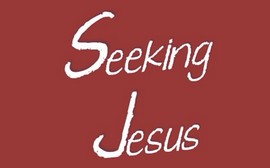 Seeking Jesus © 2020 Bob Highlands III